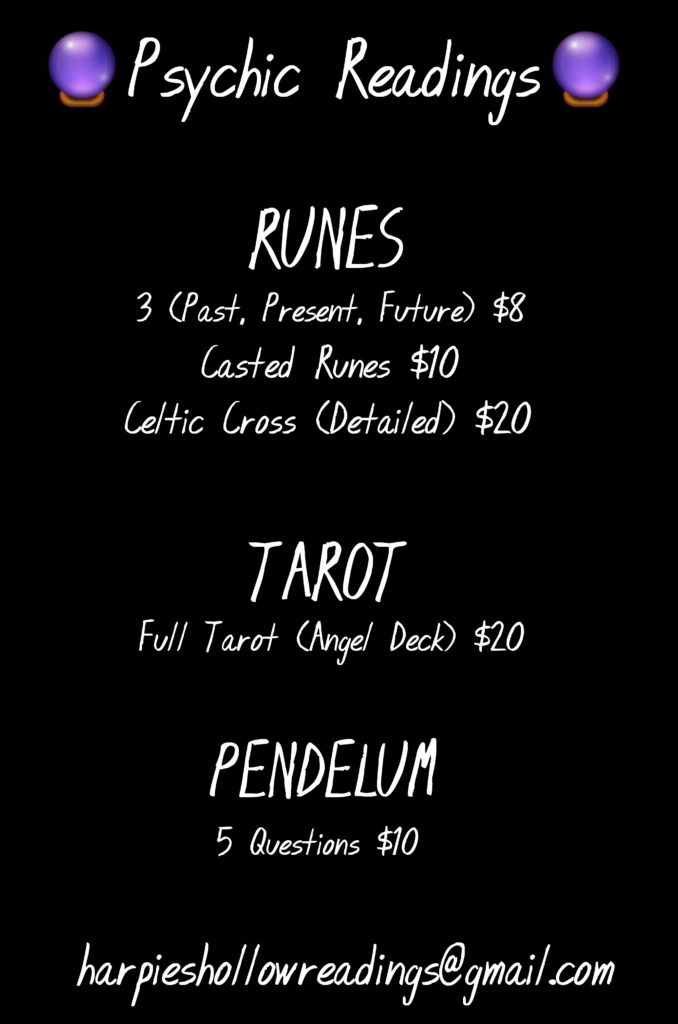 If you are seeking answers or guidance in your life, whether that be in general, about a person in specific, event, relationship or maybe just personal growth an intuitive reading can offer the insight you need. – We offer full intuitive and quality Tarot, Rune and Pendelum readings, connecting to your energy and offering unique guidance and clarity, aiming to enrich your life through Divination offered by myself and my lifelong spirit sister as a team!
** Psychic Readings & Pricing**
¤ Runes (3 cast: Past,Present,Future) – $8
– A simple 3 cast of ancient runes to offer general guidance and perspective, showing past, present, and future insight. Includes image with insightful breakdown of meanings.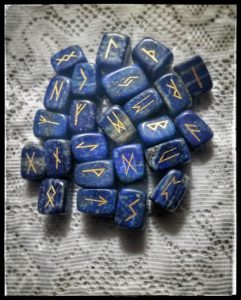 ¤ Casted Rune Reading – $10
– Using the guidance of ancient deities and inner intuition your reading will be cast, with no set number limit of stones within the cast. They will be interpreted based on their position as well as their meanings. Also includes images with the interpretation.
¤ Runes (Celtic Cross: Detailed) -$20
– Using enhanced intuition through ancient entities to receive detailed guidance, past, present, future, root cause, personal challenge and outcome. Rune, is a sacred word meaning "Secret, Hidden Meaning" and our ancestors used this accurate form of divination for centuries. Includes images of your reading and interpretation.
¤ Full Tarot Reading (Angel Deck) – $20
– The angels speak to us on many levels, this deck mostly deals with financial/career/success issues. If you're looking for a positive reading, especially something for a beginner, this will be the deck for you. Can deal with a past/present/future question.
¤ Pendelum Reading – $10
– Using keen intuition and a very special, powerful talisman, and accepting the guidance through surrounding spirits and guides, you can gain the answers to yes or no questions. Ask up to 5 questions.
**Please include an image or several images to help us gain vision on you, your situation or the person, thing, or event you're inquiring about. Please also include your direct email address to send the reading to.**
Only PayPal accepted. Payment is required before any readings.
Readings will be received as soon as possible and always within 24 hours of purchase, with detailed information and images of your reading included.
psychic divination reading future past present pendelum tarot rune